Thank you for visiting,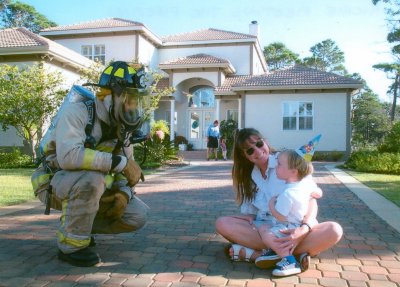 The Retired Professional Fire Fighters Cancer Fund Inc. is a non profit 501(C)3 organization committed to raising funds for cancer research programs. Our funds are allocated to established programs that seek to impact those cancers that have a higher occurence rates among fire fighters. Although we focus on "Fire Fighter Cancers", everyone will benefit from our efforts because as we all know cancer does not discriminate.
TO DONATE: Use the "DONATE" button on the upper right corner of this page.
Every person affiliated with The Retired Professional Fire Fighters Cancer Fund provides in kind service. All board members and those who assist us donate their time. No one receives a salary or stipend. The Organization has no paid employees. Also, the Organization does not use any professional fundraiser groups to raise money. This allows us to minimize our expenses and maximize our research grants to worthy cancer research programs.
| | | |
| --- | --- | --- |
| | | |
| | | |
| | | |
On August 28, 2018, on behalf of our very generous donors, we had the pleasure of presenting a $15,000. check for colon cancer research to the University of Rochester, N.Y.'s Wilmot Cancer Institute. We had the honor of meeting Hucky K. Land, Director of Research and Co - Director of Wilmot Cancer Institute and members of his research team. Read More...
Download:

100_4727.JPG
A HUGE "THANK YOU" to all I.A.F.F. Members for adopting Resolution #40 "SUPPORT OF CANCER RESEARCH" at the 2018 International Association of Fire Fighters Convention. Read More...
Download:

n2221402668_8236.jpg
On Saturday June 9, 2018, Lt. Jack C. Zoppo, Baltimore City Fire and a member of I.A.F.F. Local 964 was fondly remembered during a check presentation to Johns Hopkins Cancer Center. The presentation took place at Engine 6, Ladder 1, Battalion 2 - City of Baltimore (Jack's Fire House). More than $17,000. Read More...
Download:

IMG_4553.jpg
A HUGE "THANK YOU" to The Greater Binghamton Chamber of Commerce for selecting The Retired Professional Fire Fighters Cancer Fund as this year's CHARITY PARTNER for the 2018 Binghamton Bridge Run. On May 15, 2018, Chamber C.E.O. and President of The Chamber, Jennifer Conway presented a $2,000. check to R.P.F.F.C.F. President William Newland. Read More...
A HUGE "THANK YOU" to all who played, sponsored, helped at the event, organized and supported this years "BATTLE OF THE BRAVEST" Charity Hockey Game. This years event raised more than $9,000. bringing our four year 'HOCKEY GAME" total to over $30,000. 100% of these funds go directly to established, promising cancer research programs. Read More...
Massachusetts General Hospital Awarded $10,000. for Neuroendocrine Cancer Research.   It is my pleasure to inform you that Massachusetts General Hospital has been awarded a $10,000. grant for their Neuroendocrine Cancer Research Program in Fond Memory of JIMMY PACE. Read More...
Download:

100_3449.JPG
Our latest cancer research donation was recently made to the Mayo Clinic in Rochester, Minnesota. A huge "THANK YOU" to President Chris Ford I.A.F.F. Local 520. Pictured L to R: Mike Rybarczyk, I.A.F.F. Local 520 Vice-President, Chris Parsons, Minnesota State Fire Fighters Association President - Local 21 (St. Paul, MN.), Tom Thornberg, 5th District I.A.F.F. Vice - President, Chris Ford, President, I.A.F.F. Local 520, Dr. Bradley C. Leibovich and Dr. Stephen Boorjian - Mayo Clinic Oncology Department. Thank you to all for representing The Retired Professional Fire Fighters Cancer Fund at the check presentation. Read More...
I am please to announce that retired Binghamton, N.Y. Fire Department Leiutenant Jerry Marinich and his wife Melody recently donated $10,000. to The Retired Professional Fire Fighters Cancer Fund.They wanted their donation earmarked for prostate cancer research. 100% of their donation was awarded to Buffalo, N.Y.'s Roswell Park Cancer Institute's Prostate Cancer Research Program. Read More...